Well, it's that time of year again! I love Christmas. I love the decorations and treats, I love all the Christmas parties, I love getting to spend time with family, opening presents and I really look forward to our annual anniversary getaway at the end of the month! But one of my favorite parts about this Christmas holiday season is GIVING. I recently took The Five Love Languages quiz available online, and as I anticipated, one of my high scores is "receiving gifts"… which also means I tend to express love in the same way. 🙂 I love the fact that we get to give to those we care about most and surprise them with things they love (which I suppose we can do all year long, but we actually budget for it this month!). I love that we also get to adopt local children for Christmas and provide gifts for those who might not receive something otherwise. And I love Operation Christmas Child…the chance to fill a small shoebox with the love of Christ. You know, Christ gave the ultimate gift of all. John 3:16 says, "For God so loved the world that He gave His one and only Son, that whoever believes in him shall not perish but have eternal life." Christ died for all of us so that we might be able to spend eternity with Him! The least I can do to honor my Savior is to be generous toward others.
So I guess I share all of these thoughts to say I LOVE my annual 12 Days of Giveaways. It's an opportunity to give back to all those who have supported me over the last year. Two years in a row I've considered not doing it as there is a bit of a cost involved (I'm sure you you knew that), but I just can't do it! It's as fun for me as it is for you guys! So without further ado, let's get this party started!
This year, you will find all of my giveaways listed on my blogsite rather than Facebook (WHAT?!). Yes, you will actually have to travel to my blog for a chance to win. 🙂 But in the grand scheme of things, it's not that hard. 😉 I will publish a blog with a new giveaway every day for 12 consecutive BUSINESS days and then share the post on my Facebook page. The grand prize will be listed Wednesday, December 17th and the winner will be announced Friday, December 19th!
To earn a chance to win, you must LEAVE A COMMENT on each day's BLOG post (or the ones you're interested in). And you can earn one bonus entry by sharing the blog post on Facebook, Instagram or Twitter with the hashtag "edp12daysofgiveaways". If you forget to use the hashtag, you won't earn an extra entry because I won't be able to see your post when I search via the hashtag. Also, be sure your posts are shared publicly (and not privately). 🙂
EDITED TO ADD: I'm having trouble viewing Facebook shares, so please let me know in your comment whether or not you shared the giveaway. Thanks!
Alright, alright…ENOUGH CHIT CHAT!
Day 1: $10 Maeva's Gift Card!
Maeva's is a new local coffee shop everyone is raving about. Yesterday, I indulged in a Spiced Caramel Apple Steamer and a Rose Cookie (with beautiful rose icing). Ugh. SO GOOD! Yes, Maeva's is only located in Alton, but don't worry out of town friends…I'm sure there is a Starbucks card on the way. 😉 Leave a comment at the bottom of this post for a share to win! Earn one bonus entry by sharing the following (or come up with your own verbiage): "Check out Day 1 of the #edp12daysofgiveaways – I want a Maeva's gift card!" Be sure to include a link the blog post, so you're actually sharing the post. 🙂
Good luck! The winner of today's giveaway will be announced at the beginning of tomorrow' post!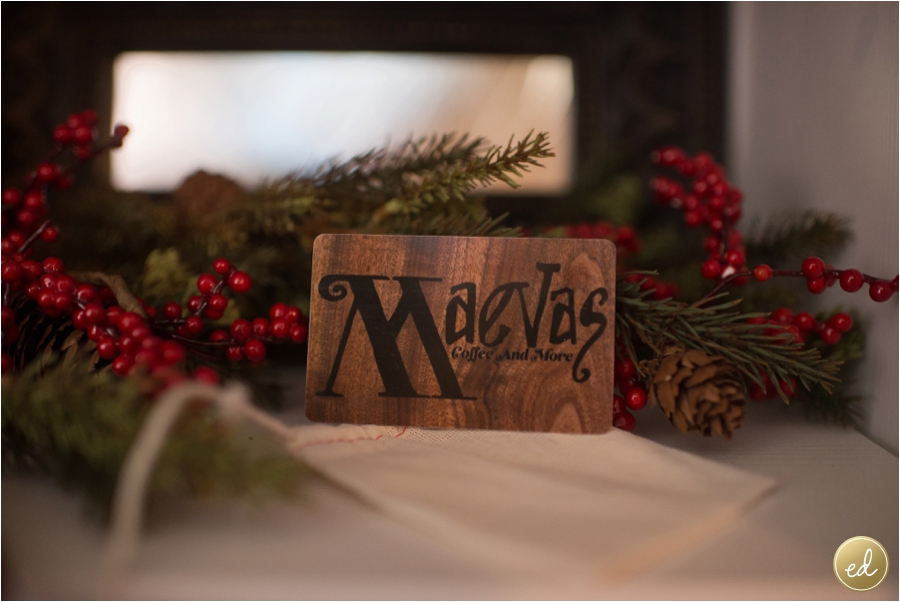 Alton, IL Contemporary Wedding and Senior Portrait Photography
Edwardsville, IL Contemporary Wedding and Senior Portrait Photography
St. Louis, MO Contemporary Wedding and Senior Portrait Photography