Winner of the Day 1 $10 Maeva's Gift Card: KATHY STEVENSON
Please email info(at)emilydobsonphotography(dot)com within 24 hours to claim your prize!
Day 2: $10 Starbucks Gift Card!
Since yesterday was a local giveaway, I figured I better go ahead and follow it with a universal giveaway. Plus, it wouldn't be Christmas without a Peppermint White Chocolate Mocha! 😉
Leave a comment at the bottom of this post for a chance to win! Earn one bonus entry by sharing the following (or come up with your own verbiage): "Check out Day 2 of the #edp12daysofgiveaways – I want a Starbucks gift card!" If sharing on Facebook, please share the original post from my Facebook business page so that I can validate your bonus entry. The hashtag doesn't seem to be working aside from Twitter and Instagram. Or just share on Twitter and Instagram and you won't have to worry about it. 🙂
Be sure to include a link the blog post, so you're actually sharing the post. 🙂 If you forget to use the hashtag, you won't earn an extra entry because I won't be able to see your post when I search via the hashtag. Also, be sure your posts are shared publicly (and not privately). **SPECIAL NOTE: I'm having trouble viewing Facebook shares, so please let me know in your comment whether or not you shared the giveaway. Thanks!
Good Luck! Today's winner will be announced at the beginning of tomorrow's giveaway!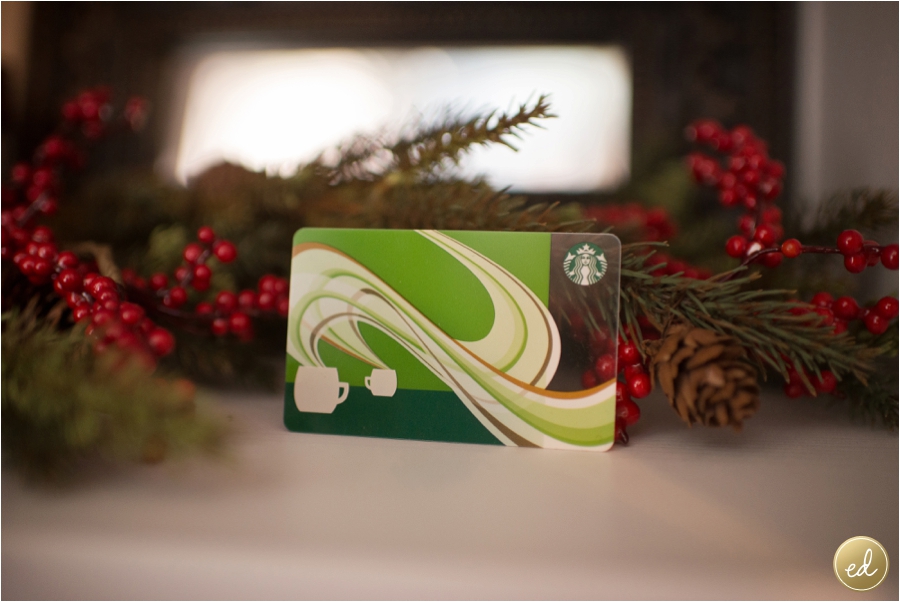 Alton, IL Contemporary Wedding and Senior Portrait Photography
Edwardsville, IL Contemporary Wedding and Senior Portrait Photography
St. Louis, MO Contemporary Wedding and Senior Portrait Photography