"Kristina has a very warm and kind demeanor. She enjoys helping others and being around people she loves. Kristina is definitely not a procrastinator and she is very loyal and dedicated to every task that she takes on. Kristina enjoys adventure and trying new things as well. She never met a dog she didn't love and would probably adopt 20 of them if I would let her. The smallest occurrences can make her day…such as seeing the goats out on their rocks on Fosterburg Road or seeing calves running around a pasture. She doesn't give herself enough credit for how wonderful she is and she has no idea just how happy she makes me everyday" -Jake
"Jake has the best sense of humor ever. He can act serious when need be (i.e during a serious conversation or while at work; he's a police officer) but he can also make anyone laugh at any time. Jake has a very laid back personality and is very 'go with the flow'. He doesn't necessarily like deadlines and works at his own pace. But when he commits himself to something, his work is nothing short of the best he can do. Jake cares deeply about the people he loves and always wants to ensure they safely arrive to places. Jake goes over and beyond what is expected from him as a police officer, a son and as my soon to be husband. He can be reserved at times but when he warms up to a person, it's easily noticed. He is compassionate and kind; easy to please and incredible to be around." -Kristina
It was a joy to be involved in Jake and Kristina's wedding. Weddings in the 21st century have become more of an entertainment night than a celebration of two people committing their lives to one another. Thankfully, many of the weddings I've personally photographed don't fall into that category, and Jake and Kristina's wedding was no exception. They were focused on their values from the get-go, striving to ensure that God was glorified on their wedding day and in their marriage. They married in their home church in Bunker Hill surrounded by friends and family. They carved time out of their pre-ceremony festivities to pause and pray together…without ever laying eyes on each other I might add! The pastor presented the Gospel during their ceremony and they exchanged vows that not only revealed their love for one another, but their love and commitment to the Lord as well. The threat of rain really put us at risk for zero outside pictures on the day of their wedding, but as you'll notice below, God blessed them with a perfectly dry day, which allowed for some gorgeous picture making!
Congratulations Mr. and Mrs. Welch and thank you so much for giving me the chance to work with you both!
Jake & Kristina's Vendors:
Ceremony Venue: Berean Baptist Church; Bunker Hill, IL
Reception Venue: Sunset Hills Country Club; Edwardsville, IL
Photographer: Yours truly!
Videographer: Kairos Photography
Florist: Susan Ruyle
Cake Artist: Bailey Cakes and Joan Brown
Band: St. Louis Big Band
Hair Artist: Brush Hair and Makeup
Makeup Artist: Whitney Peterbaugh
Bridal Boutique: Frew's Bridal
Men's Tuxedos: Savvi Formalwear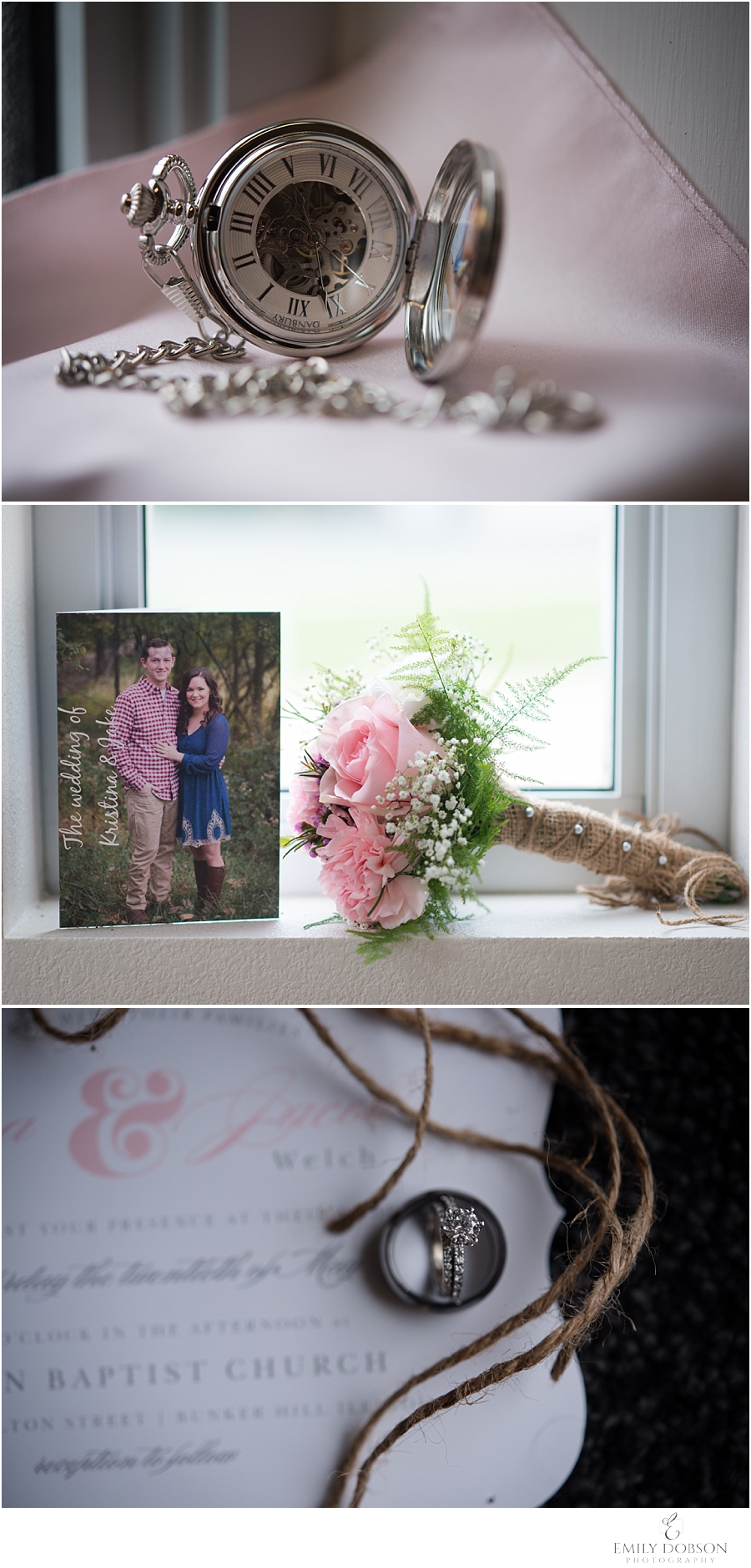 Jake


Bunker Hill, IL Wedding Photographer
Alton, IL Wedding Photographer
Godfrey, IL Wedding Photographer
St. Louis, MO Wedding Photographer
Edwardsville, IL Wedding Photographer