Summer is here and it's already June 1st, which means it's time for another Shop Small post! If you missed my first Shop Small post with hazel2blue, then I encourage you to check it out. You'll learn not only about hazel2blue, but also about why I've started this Shop Small series on my blog. I'm super excited to draw attention to the small businesses in and around our Alton/Godfrey community. Just a reminder, I will feature a local small business right here on my blog on the first and fifteenth of every month. You'll learn about various local businesses, what they do, who they service, see their space and get to know the real person behind the business!
Don't forget to visit your local small businesses and thank the owners for all they do for our community!
So in this post, I introduce to you: Brush Hair & Makeup.
The Details: Elizabeth Werts, Owner of Brush Hair and Makeup Salon | Established in 2016
Hours: By appointment Tuesday-Thursday, but walk-ins are welcome 10:00am to 5:00pm and Saturday by appointment only
Location(s): 5411 F Godfrey Rd, Godfrey, IL 62035
Facebook: https://www.facebook.com/brush618/
Instagram: https://www.instagram.com/brush618/
Tell me about your business. Brush is a hair salon and makeup studio in Godfrey, IL. We do hair color, haircuts, extensions…all your basic salon needs, but we offer a little more. We are up-to-date on the latest trends and techniques. We specialize in weddings and special events at your location, but we also have a great space for your whole wedding party to come here that is photography and videography friendly (amen and hallelujah!). Brush was established in August 2016, But Liz (pictured below) has been doing hair and makeup since 2012.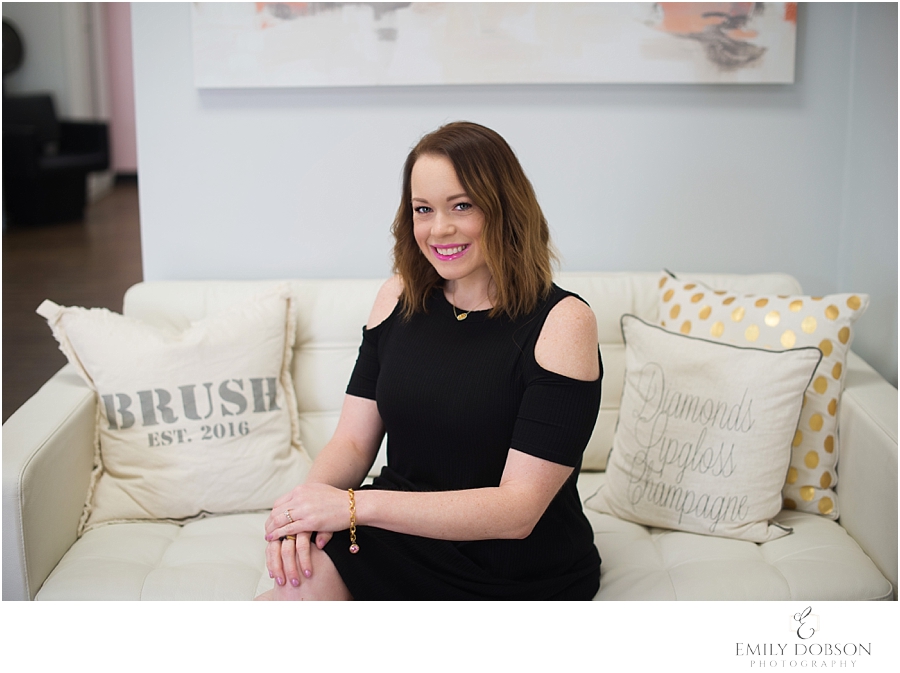 What is your background? I (Liz) went to cosmetology school and through the makeup certificate program in St. Louis, MO. I actually grew up in a family owned business.
What item/service in your shop do you just love and think everyone needs? Everyone needs a Kevin Murphy "doo over"! It's a dry texturizing hair spray that gives you the perfect messy look.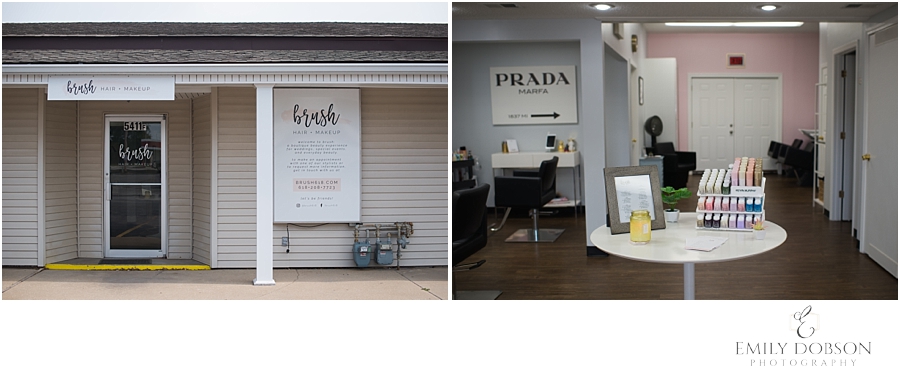 In what way have you gone above and beyond in the past for a customer?  Every Wednesday, I say "I'm gonna take off this week." Yet, every Wednesday I work all day. I always try to find a spot for everyone in my schedule. I had a customer come in a couple of months ago who had been diagnosed with breast cancer. I gave her a cute short haircut and sent her home with all the short hair care products she could ever need for free. Every stylist at Brush goes above and beyond to help each customer. My grandpa's favorite quote is "Give to your community and your community will give back to you." So we're always going the extra mile for every individual.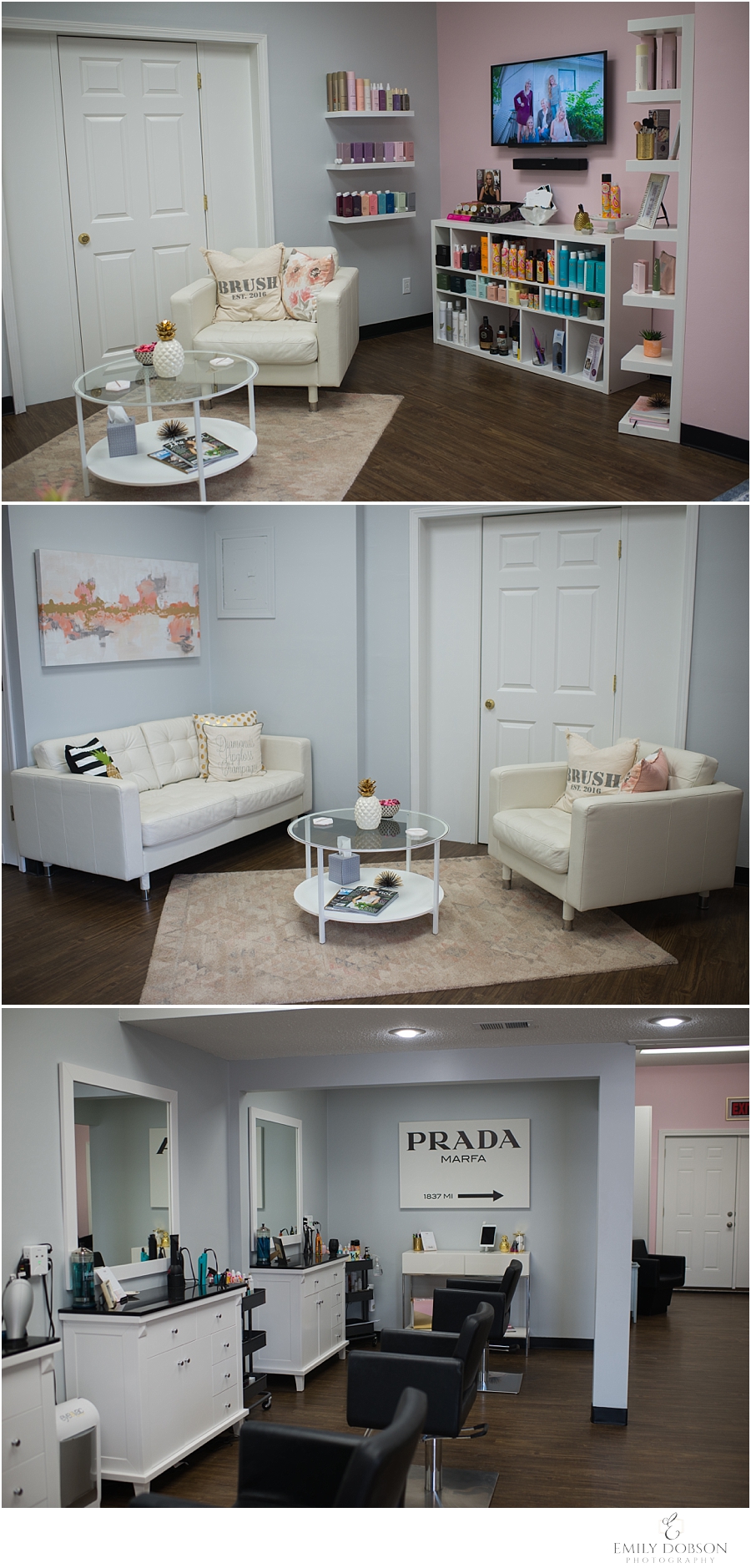 What is the coolest thing you've ever had a client do for you? It's been really fun to watch everyone personally refer us to others in the community. Word of mouth has spread really quickly.



What tool/equipment/vendor could you not imagine doing business without? Kevin Murphy. The products are beautiful and easy to use, and they actually do what they say they're going to do! They are also biodegradable products and safe for the earth, and the company does not test on animals!



What challenges do you face as an entrepreneur? Balancing family time and work (and all the business owners said AMEN!)



What's the most valuable lesson you've learned in starting and running your own business? Not everything is going to go as planned, and in the wise words of my mother, "life is an adventure!"



What other local business do you love? I love White Birch because Stacey has a ton of really cute, trendy stuff to decorate with. I also love Hansen Meat Co. and the Riverbend Growth association. One of the reasons I love all three of these businesses is because they all have women in leadership that I can look up to and learn from. I love watching other women succeed in business.



Tell me about you. What are you passionate about outside of your business? I enjoy spending time at home on my patio where I can sit out on my with my pup and my fiancé. I also love to shop and dine out…and wine. I like wine.
Describe your perfect day. Rising early to workout with some friends followed by shopping, dinner and relaxing on the patio with a glass of wine.


When did you know you wanted to go into this business? I knew I wanted to open my studio when I graduated cosmetology school. When I outgrew my previous work space, I knew it was time to give my community, the Riverbend area, a trendy and knowledgeable place for all of their hair and makeup needs.
Thank you, Liz, for the interview and for your awesome salon! I love sending my clients to a trustworthy, trendy business that everyone loves!
Small Business Owners: If you're interested in having your business featured on the Emily Dobson Photography blog, please email me at info(at)emilydobsonphotography(dot)com. I'm currently booking for 2018 features and will showcase one business per month. Your feature is completely free and you're welcome to use the images on your websites or social media sites. I look forward to meeting you!
Alton, IL Senior & Wedding Photographer
Godfrey, IL Senior & Wedding Photographer
Edwardsville, IL Senior & Wedding Photographer
St. Louis, MO Senior & Wedding Photographer