Happy Eclipse Day! Since social media has been consumed with the eclipse for about a month. I thought it was time to send something new to your social media feeds today! For this Shop Small feature, I traveled a little south to visit a business who originally launched in Godfrey. This company made a great first impression with me and I hope enjoy you learning more about them today!
Don't forget to visit your local small businesses and thank the owners for all they do for your community!
Today, I introduce to you: Envisioning Green
The Details: Steven and Erika Johns, owners
Hours: 8:00 a.m. – 4:00 p.m. Monday through Friday
Location(s):  8550 Forest Blvd, Caseyville, IL 62232
Facebook: https://www.facebook.com/envisioning.green/
The following interview was conducted with both Steven and Erika! They are so personable!
Tell me about your business. We are a full service, boutique-style landscape company. We design and build outdoor spaces and provide full service lawn care that includes fertilization. We do as much as we possibly can and when a job requires something out of our service offering, then we partner with other companies who do things we don't do so that there is only one point person. In that way, we become a one-stop-shop. Steven started the company when he was 14 mowing lawns. We still offer lawn care, but now we also offer large-scale landscape projects. We strive for an expensive look, but not necessarily the most expensive product. We offer one level of quality. We believe in doing it right the first time by planning it all out on the front end through our design service and consultation.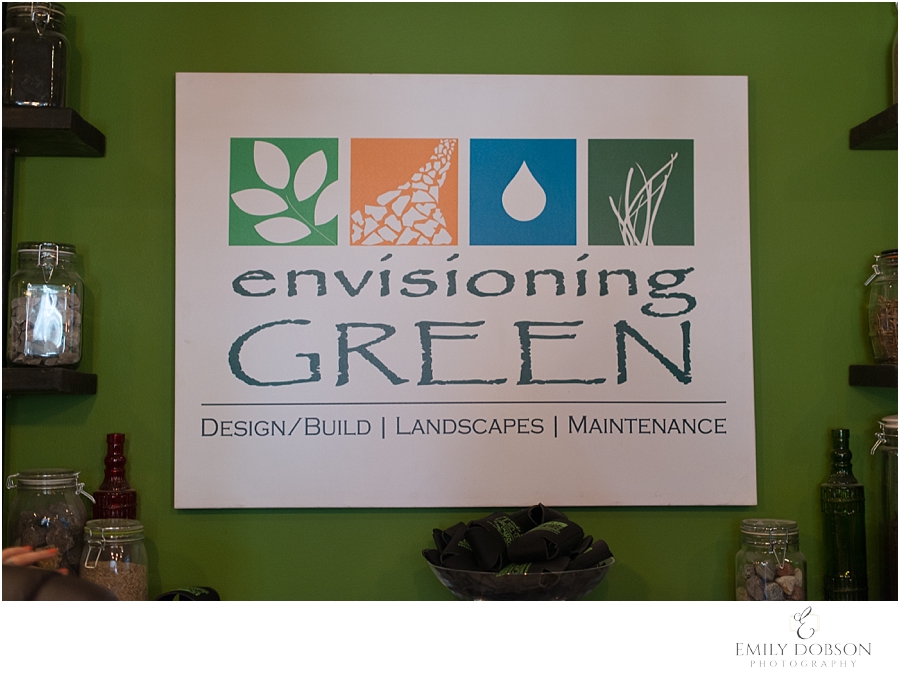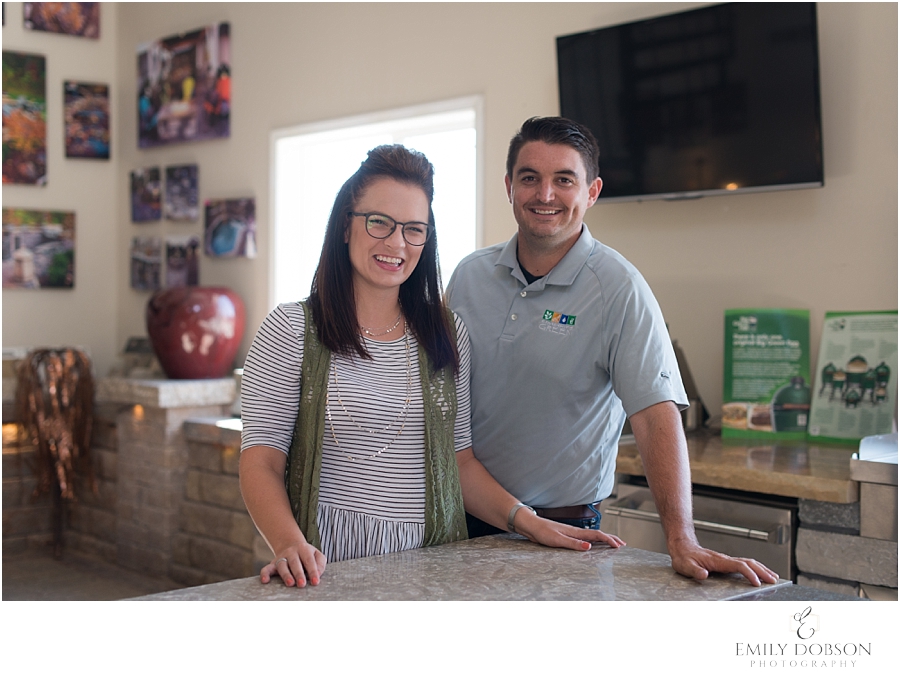 What is your background? Steven: I feel like I grew up as Little Kid President. I started mowing lawns when I was 14 and during my senior year of high school, I got permission to leave campus every day at 1:00 p.m. to push mow 50-60 yards per week. I also did two years of night school at Lewis and Clark Community College. I obtained my associates in sciences and then attended SWIC Horticulture under landscape design. Erika has her BSN, but is now working alongside her husband at Envisioning Green.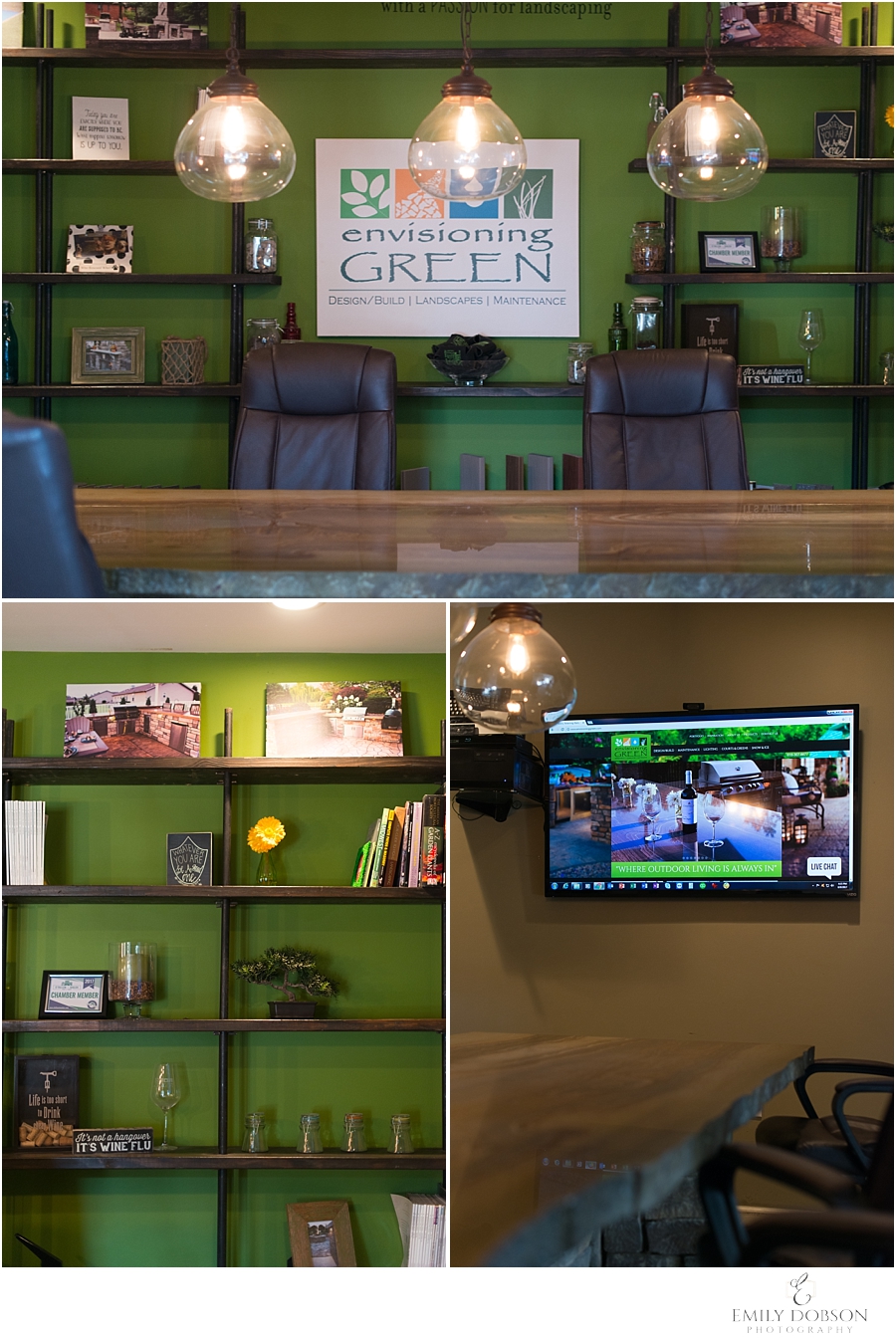 What item/service in your shop do you just love and think everyone needs? Erika: I think everyone needs full service lawn maintenance. I love a clean, fresh-cut maintained lawn! Our full service lawn maintenance includes lawn mowing, shrub maintenance, mulching, etc. Basically, you receive the full works and don't have to worry about anything.
Steven: I think everyone needs a gas fire pit. I love our gas fire pits. The pits we design and install don't require a lot of prep work. You just turn it on, enjoy yourself and turn it off when you're done. I believe it has to be convenient or you're not going to use it. It provides such a great atmosphere for just hanging out with friends and family.



In what way have you gone above and beyond in the past for a customer? We do a lot of little things such as send small Amazon gifts and write a lot of handwritten notes and cards. We also also have a 10 foot rule. If someone is within 10 feet of one of our employees, then they need to be acknowledged in some way. We love being a positive experience for everyone. There is a quote on our wall that is a continuous reminder: "Be the best part of everyone's day" (LOVE THIS! -Emily)



What is the coolest thing you've ever had a client do for you? Once, a client took us out to a nice dinner and to the Fox Theatre, which was really nice! We also love verbal affirmation and clients who simply call us out on Facebook and leave positive feedback.



What tool/equipment/vendor could you not imagine doing business without? Erb Equipment in Mitchell, IL; we buy from them for their customer service.



What's the most valuable lesson you've learned in starting and running your own business? Erika: Learning from your mistakes, but not taking them so personally. A mistake is not a mistake until you refuse to fix it.
Steven: Be appreciative of your people. People are people and it's important to learn how to deal with them. I wish I would've known early on how to be a positive influence and an encourager. Business owners should be kind to people. Mentor people when the opportunity arises. Respond to others rather than react.





What advice would you give to high school seniors who might want to go into this business after high school? Steven: Be an expert in seeking experts! You need other people in your life to help. So many people/consultants that we've reached out to have helped us along the way. Also, stay humble and don't be a know-it-all. I learn something new every day. Be humble and open to learn from unexpected people.



What other local business do you love? It's not local, but we love Chick-fil-A (me too!). We also love Rick Marteeny from State Farm. I'll text him whenever, sometimes late in the evening, and he always responds! He's a genuinely nice person that has your best interest in mind. And he'll give you his honest opinion whether it ends up in a sale for him or not. Any business, local or not, should be consistently excellent.



Tell me about you. What are you passionate about outside of your business? Erika: Women in church. I really think women are put in a box. They're very different in so many aspects and that's ok – I love our church as a whole. Women need to be built up and encouraged, and I love being involved with women through our church.
Stephen: I really love my work. We have such a great platform to minister to people and be a positive influence to people. We have 25 people that we can help provide a living for and encourage through life. Second in line is snowboarding and third is golf.





When did you know you wanted to go into this business? For quite some time it was just a way to make money. Girls babysit and guys mowed grass. I didn't know what else to do. Eventually, I realized I really liked what I was already doing.




Describe your perfect day. Erika: Sitting at home reading books, snuggling my dogs, snacking all day and not worried about getting fat!
Steven just likes food. (Lol!)


Thank you, Steven and Erika, for the interview and for your landscape company! I was truly impressed by your physical location as well as each of you and your personalities. Like I said in person, you don't always see that type of service and kindness in your field so I will be recommending you to everyone I know!
Small Business Owners: If you're interested in having your business featured on the Emily Dobson Photography blog, please email me at info(at)emilydobsonphotography(dot)com. I'm currently booking for 2018 features and will showcase one business per month. Your feature is completely free and you're welcome to use the images on your websites or social media sites. I look forward to meeting you!
Alton, IL Senior & Wedding Photographer
Godfrey, IL Senior & Wedding Photographer
Edwardsville, IL Senior & Wedding Photographer
St. Louis, MO Senior & Wedding Photographer