When you consider how many small businesses surround your every day life, it is impressive to think about the amount of effort these hard-working individuals put forth to make their businesses both come to life and stay alive. Yet, many Americans frequent big box stores without ever considering their local merchant or small business options. Customers often eliminate small businesses as a shopping option due to the assumption that prices will be higher than that of a corporate owned store. However, small businesses have great perks that should be considered such as hands-on, personalized customer service, quick access to inventory and product diversity. But one of the best perks of supporting your local merchant or small business is the amazing asset they are to the local community! Small businesses provide a variety of benefits to the local community including taxes to the city and county, job opportunities to local residences and many also support local causes by volunteering their time and giving their resources. Did you know that the taxes a local business pays help finance the roads, public schools, sidewalks, parks and youth sports leagues? They also help public service workers such as police officers and firefighters. They even support the area by hiring the services of other local professionals such as bankers, CPAs and attorneys.
I want to draw attention to the small businesses in and around our Alton/Godfrey community. So I am launching a new blog series entitled "Shop Small". On the first and fifteenth of every month, I will feature a local small business right here on my blog! I'll share what their business is, what they do and who they service, highlight their space with my photography and interview the owner so that you have a chance to get to know the real person behind the business!
I hope this encourages all of you to visit your local small businesses and thank the owners for all they do for our community!
So without further ado, I introduce to you: hazel2blue.
The Details: Cam Lucasey, Owner of hazel2blue Women's Clothing Boutique | Established in 2013
Hours: 12:00pm to 6:00pm Tuesday-Thursday, 12:00pm to 5:00pm Friday, 10:00am to 5:00pm Saturday
Location(s): 2521 State St, Alton, IL 62002
Facebook: https://www.facebook.com/HAZEL2BLUE/?hc_ref=SEARCH
Instagram: https://www.instagram.com/hazel2blue/
Read on for an interview:

Tell me about your business. Well, I'm an RN by trade, but hazel2blue is a women's clothing boutique.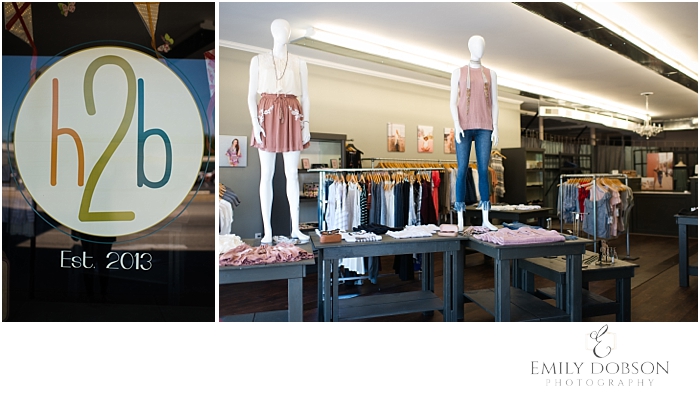 Why did you choose to do what you do? When did you know you wanted to go into this business? It's just something I've always wanted to do. When my kids were younger, I had thought about opening a children's clothing boutique, but in my early 30s with three little kids it just wasn't the right time (I know how that is-ha!). I have three grown daughters now and when they all left home, I opened the store and bought a dog! I just knew there had to be something more than just working a 9 to 5. I thought it would be fun to work within the community; get to know people and help them.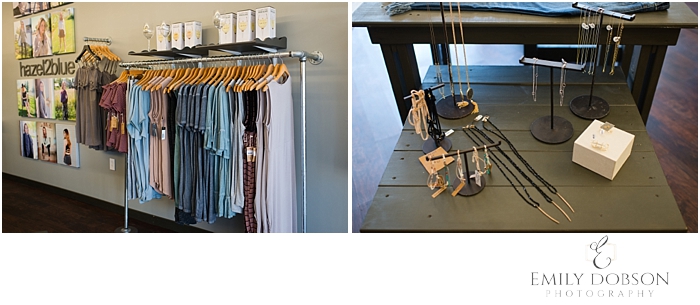 What item in your shop do you just love and think everyone needs? I love our denim. I'm also always all for a vest to compliment whatever you have in your wardrobe. I love the long vests.


In what way have you gone above and beyond in the past for a customer? If we don't have something in stock and we can get it, we always try to order it for our customers. We also come in on our days off if someone wants to come in and shop, but we aren't open. We also have two customers who live in northern Illinois and Florida that we ship items to. They call in and pay over the phone and we're happy to ship to them.


What is the coolest thing you've ever had a client do for you? What we get the most joy out of is making women feel good in what they wear regardless of their size. A lot of women think they won't look good in our items because they think the sizes will be too small, but Suzanne (store manager) is really good at pulling stuff and saying "just try this." Usually the customer ends up loving it and saying they never would've picked it for themselves.


What tool/equipment/vendor could you not imagine doing business without? We have one clothing rep, Anjali, that we absolutely love. She's super great and since I don't always make it to the market, she comes to us at least once a year. She brings the clothes and we pick from her here at the shop.


What other local businesses do you love? White Birch, Stacey is good. When we have events here at the store, I usually get cookies from LuciAnna's Pastries.


What are you passionate about outside of your business? Before I started this business I used to volunteer a lot. I volunteered for a clinic for the uninsured down in Eureka. I also served on the board of the La Vista Garden in Godfrey. I love to exercise and be outside. I love running, spending time with my kids and I love to travel.




Describe your perfect day. Even though I love to travel, when I'm home I like to be home. We go out to dinner, usually at Gentelin's or in St. Louis, but most of the time I just love being at home. I like to go for a run or work in my yard or binge watch something on Netfix. I do love my days of travel as well though.






Thank you, Cam, for being my very first Shop Small Feature! It was great to meet you and I look forward to frequenting hazel2blue in the future!
Small Business Owners: If you're interested in having your business featured on the Emily Dobson Photography blog, please email me at info(at)emilydobsonphotography(dot)com. I'm currently booking for 2018 features and will showcase one business per month. Your feature is completely free and you're welcome to use the images on your websites or social media sites. I look forward to meeting you!
St, Louis, MO Senior Photographer
Alton, IL Senior Photographer
Godfrey, IL Senior Photographer
Edwardsville, IL Senior Photographer