Tonight, I'm excited to share another Shop Small post! My previous office assistant began working here a few months ago and she was so excited to be working for a company with a cause. I'm excited to share this unique, quaint little shop in Grafton that you're just sure to fall in love with!
Don't forget to visit your local small businesses and thank the owners for all they do for our community!
Tonight, I introduce to you: Peace of Quiche.
The Details: Julie Connoyer, Owner of Peace of Quiche
Hours: Open Spring through the fall on Saturday and Sundays from 8:00 a.m. – 2:00 p.m.
Location(s): 111 East Main Street, Grafton, IL 62037
Facebook: https://www.facebook.com/Peace-of-Quiche-719938941395866/
Tell me about your business. In a nutshell, Peace of Quiche is a café with a cause. The cafe promotes peace by supporting those who make a difference. We increase awareness of charitable organizations in the local Riverbend area and surrounding communities. This is our fourth season, and our season typically runs from the end of April through November. However, I also open again for the holiday walk in December.

What is your background? (Education, Work experience, etc.)  My background has always been in non-profit. I wanted to find a way to help others, and find a creative way to bring people in to Grafton. I wanted a venue with a laid back atmosphere where I could build relationships-something colorful, eclectic and all-inclusive. There is a fair trade and charitable gift shop in the café as well.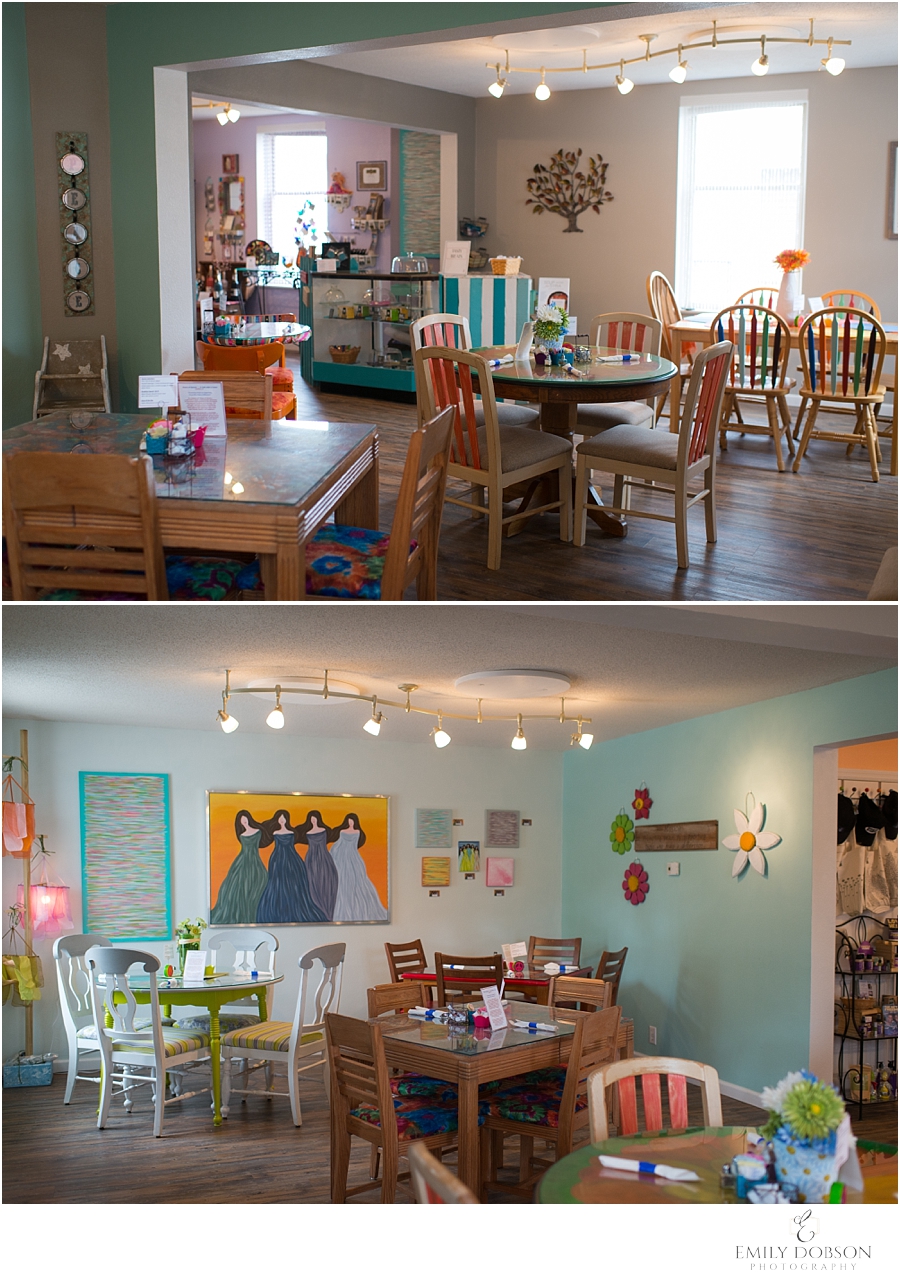 What item/service in your shop do you just love and think everyone needs? The items I have are more about raising awareness. It's not so much a need for me, but rather an opportunity to help and support the needs of others. In the gift shop, you'll find spices, soups, chocolate chip cookies and all kinds of things that help empower women. The items available help women to better use their skills and put them in the workforce. There is an organization out of Nashville, Tennessee that helps with sex trafficking. They talk with the individuals who are actually working in the business that gives them these skills and self-worth; its part of an educational program where they graduate.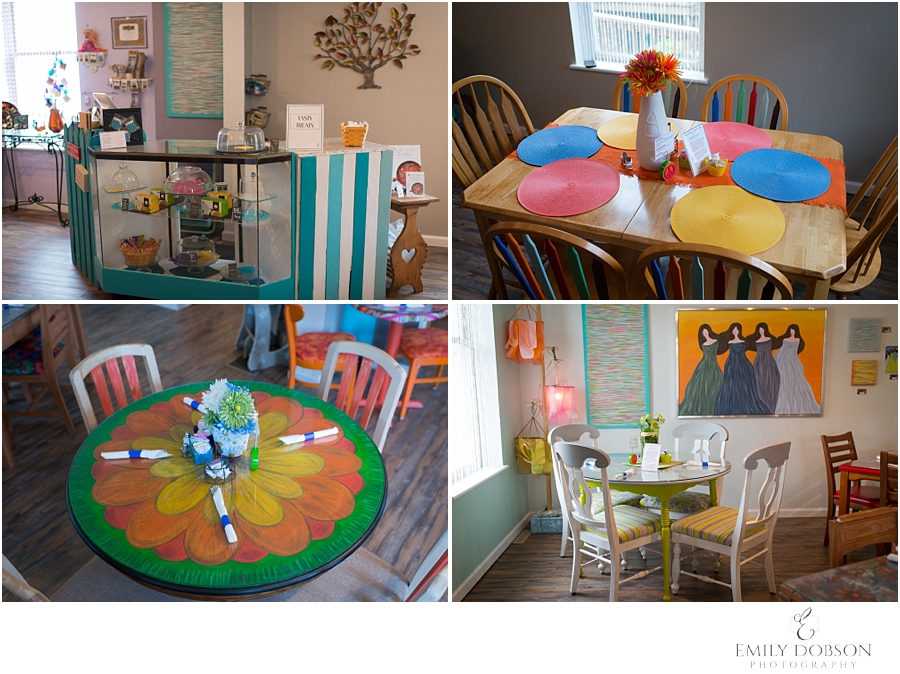 In what way have you gone above and beyond in the past for a customer? This venue and my concept has opened up customers to tell their stories. They look around at the store and they see things and it inspires people. They open up and share their experiences with me, and they feel warmth and comfort. When you come to my cafe, you're in a safe haven to share your thoughts and feelings. Customers can relate to the shop; my mission is what draws them in and helps them lower down their guards.


What is the coolest thing you've ever had a client do for you? I grew up in Bethalto, but Grafton welcomed me. The former mayor was extremely helpful. The businesses took me under their wing and worked through some of my worries and fears and encouraged me to keep going. They helped promote my business. We have a great city council.


What tool/equipment/vendor could you not imagine doing business without? I did a community outreach in Detroit that promoted literacy for blind children. There were brail items and people could learn about brail and the lack of books available to blind children. It is difficult for the blind to keep up with their peers simply due to the lack of resources.


What challenges do you face as an entrepreneur? Well, I was single up to my 40s, so I've been pretty independent most of my life. I've struggled overcoming the social bias of women owning and running their own business. My husband is super helpful and he loves and supports the cafe, but this is definitely my baby!


What's the most valuable lesson you've learned in starting and running your own business? Be prepared psychologically. There are more dimensions than just "oh let's run a quaint café." It's a lot more involved than I expected. I wouldn't change my decisions, but there are more dimensions involved than it seems.


What advice would you give to high school seniors who might want to go into this business after high school? The majority of this next generation is passionate about others and helping others. There are so many more opportunities out there for them, especially young women. The generations before us were oppressed, and they fought hard to make each generation better. There is a responsibility for young people to do something with their lives and the opportunities those before them fought for. The up and coming generations need to pave the way for their kids and the generations after them. Someone fought for their entitlements, so they need to take advantage of the opportunities given to them.


What other local business do you love? Grafton has a lot of character. I love them all! Buena Vista Art, the artist there has followed his passion. All the jewelry is hand crafted by Greg. Many stones are cut, shaped and polished by Greg personally. Greg and his wife, Janey, opened Buena Vista Jewelry in Grafton in March 2010. I love that he opened a business here to follow his passion.
I also love Vintage Vanilla. Cyndi has always had a passion for having her own shop-something more thematic than a larger scale that offers everything. Businesses that have stepped outside the box to follow what they're passionate.


Tell me about you. What are you passionate about outside of your business? I am a big advocate for women and women not becoming complacent. I also passionate about being aware of our surroundings both in our communities and outside of our communities. My husband and I are working with a small organized group in Elsah. We get together to discuss issues outside the community. My husband and I are part of the strategic planning committee for Elsah to try to develop it into more of an enticing community and possibly opening businesses! It's a historic gem. We try to play a little golf. A few fishing trips. And then follow my younger sister's softball team: St. Louis University Softball.


When did you know you wanted to go into this business? After my father passed away. We had just returned from a pilgrimage in Europe and got the call of my dad being diagnosed with cancer. I decided life was too short. I didn't want to be scared anymore and I wanted to leave my own little footprint. I wanted to be a role model in some way!


Describe your perfect day. I am a pleaser. I enjoy when other people are enjoying themselves and are happy. When a day at the cafe is good and the servers and the kitchen and the customers are all having a great experience…I am in my happy place!


Is there anything else you'd like to share? I have these Myan worry dolls. It's an easy pickup and it's myan tradition that you put this worry doll under your pillow and it takes all of your worries away!
Thanks, Julie, for the sweet take home gift!








Thank you, Julie, for the interview and for your cause! It was easy to see the passion you have for what you do. I've already been spreading the word about adorable shop. Some friends of mine even visited last weekend! 
Small Business Owners: If you're interested in having your business featured on the Emily Dobson Photography blog, please email me at info(at)emilydobsonphotography(dot)com. I'm currently booking for 2018 features and will showcase one business per month. Your feature is completely free and you're welcome to use the images on your websites or social media sites. I look forward to meeting you!
Alton, IL Senior & Wedding Photographer
Godfrey, IL Senior & Wedding Photographer
Edwardsville, IL Senior & Wedding Photographer
St. Louis, MO Senior & Wedding Photographer