Good morning! It's been an eventful weekend. Together, with a couple of friends, I hosted a garage sale in the crazy heat Friday and Saturday. I always forget how much work it is to host a garage sale. The pricing, organizing, setting up, tearing down…all of it can be exhausting! Then, when it was all said and done and the only thing you want to do is relax and SLEEP, the storm rolls through and the power goes out. Oh, how easy it is to forget how fortunate we are here in America. To think that some families never have electricity on a day to day basis is mind-blowing. We were a little bit miserable without power for a good 21 hours, but we made it and all is well in the Dobson household this morning. We are thankful that we didn't experience any damage to our home or vehicles.
Today, it's back to the grind! And I'm kicking the week off with a Shop Small post!
Let me introduce you to Woodman Collision Center.
The Details: Jess Woodman, President of Woodman Collision Center | Incorporate in 2003 and opened the shop in February 2004.
Hours: Monday-Friday 7:30 a.m. – 5:30 p.m. and Saturdays by appointment only
Location(s): 4515 N Alby, Alton, IL 62002
Facebook: https://www.facebook.com/Woodman-Collision-Center-Inc-10150121283140607/
Website: http://www.woodmancollisioncenter.com
Interview with Ginger Woodman and Chad Woodman:
Tell me about your business. We have been in business in this location for 15 years. My family has been in the business for about 80 years. We are a full service automobile collision repair business. We will help you all the way through the claim process with your insurance company, or if you don't want to turn in a claim we will help you through repair process. -Chad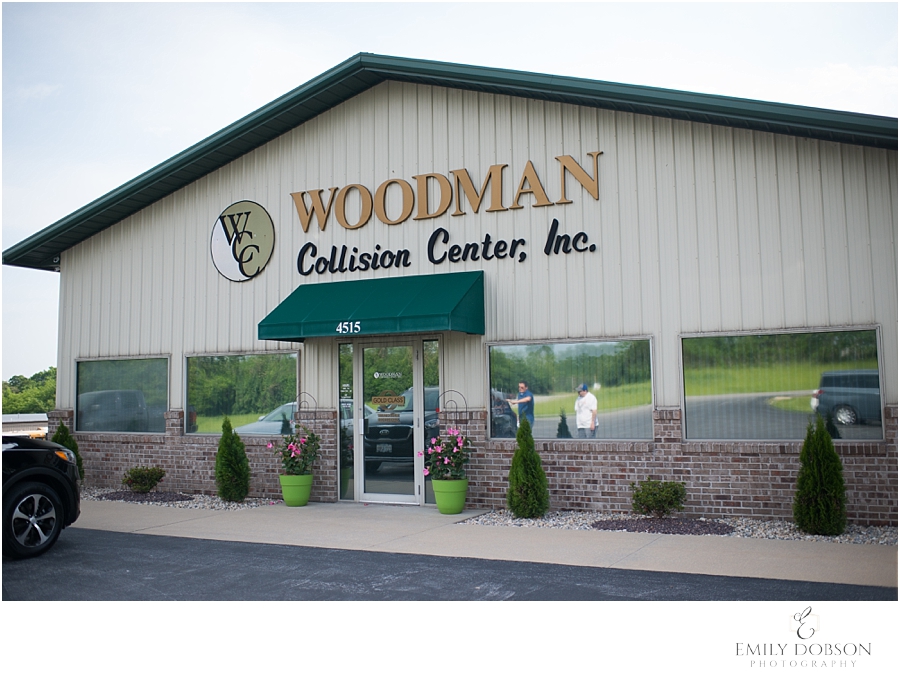 What is your background (Education, Work experience, etc.)? Jess has been in the collision repair business almost his entire life. He did attend LCCC after high school. His grandfather and father both had shops so he learned the trade from them. At one point he was in business with his dad and brother. In 1981 (Chad was a year old.) a truck loaded with grain ran into the front of the Woodman Auto Body. His brother was killed and his dad critically injured. We had no choice but to move from that building and start our own business. A few years later, Jess began a career in the insurance industry working with auto, home, and injury claims and investigated fraud. Though he was Assistant Vice President of claims and had been in insurance over twenty years, he felt the Lord calling him to build another shop. Ryan had shown an interest and was working at a shop in Bethalto so we knew it was time to reopen the family business. Because of his extensive insurance background and frequent travels all over the country he'd seen many shops and knew what he wanted to build and how he wanted to work with customers. There is no doubt the Lord placed us where we should be. That's a story for another day. His insurance background has proved invaluable when helping customers and dealing with the insurance companies. He is also one of only a few owners who can actually repair cars. -Ginger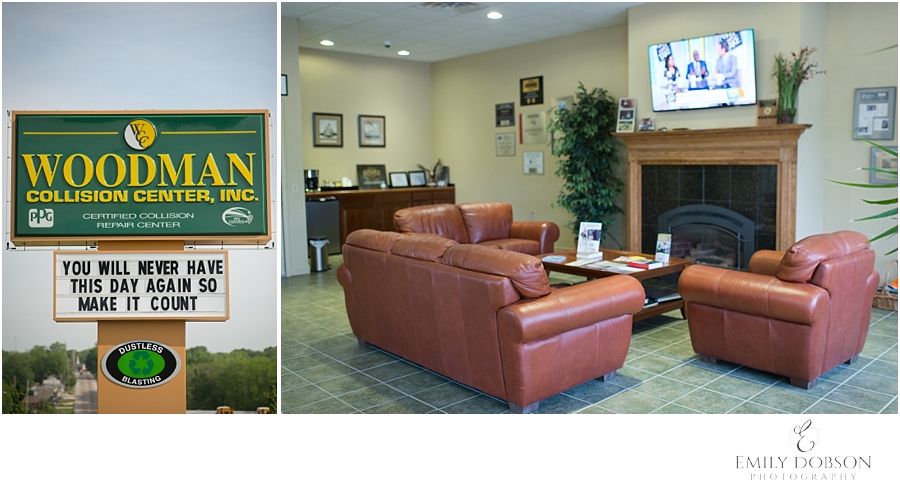 What item/service in your shop do you just love and think everyone needs? I love the fact the we are a shop that cares about the environment. We switched 8 years ago to a water based paint made by PPG. It does not let out any VOC into the environment and it is much healthier for our employees. Not only is it better for the environment, but it gives a better color match for our customers. -Chad
In what way have you gone above and beyond in the past for a customer? I believe that the way we approach the repair process makes us different. We help our customers through the entire repair process. A car is usually the second largest investment we make in our lives. From the moment of the accident most people are stressed about what to do next and have never been in the situation before. Explaining the repair and claim process to each person, and helping them walk through that process. I think what we hear the most from customers, is how easy and simple it was with our help.
I also like the times where we are able to fix something for someone at no charge. Then when you hand them the keys and tell them they owe nothing. I love seeing their faces. -Chad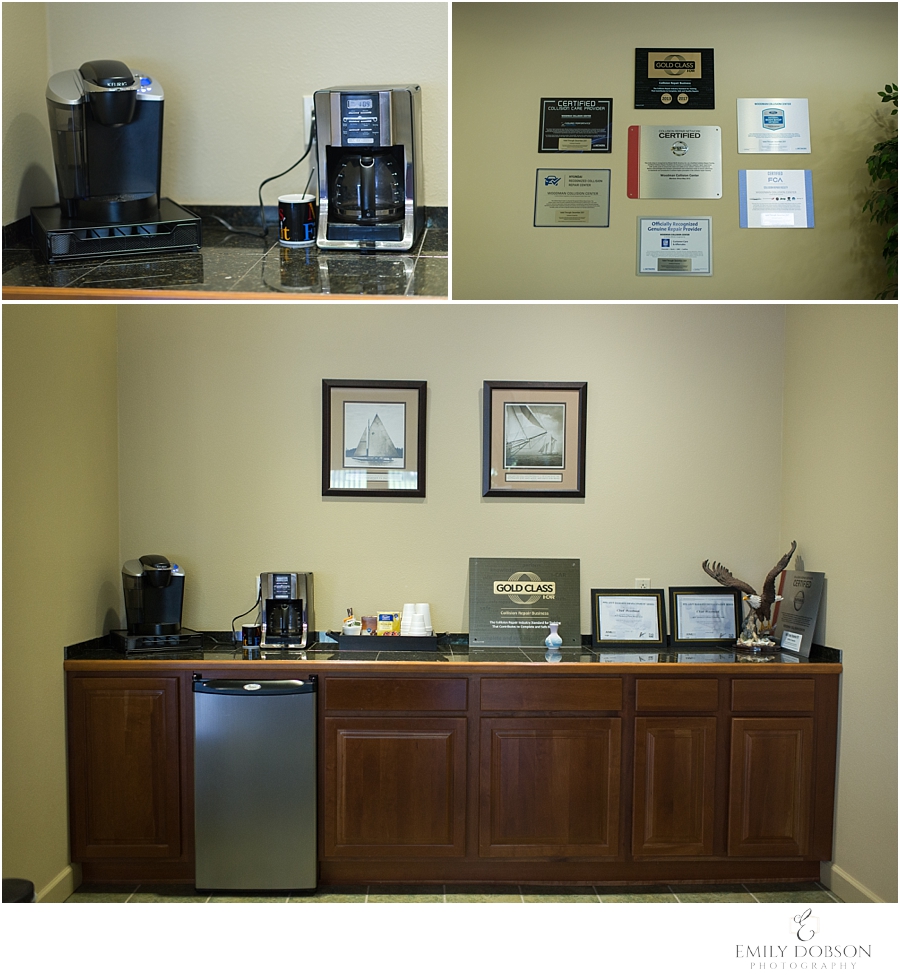 What is the coolest thing you've ever had a client do for you? I never expect any of our customers to do anything for us. We have had customers bring lunch for the guys in the shop for a thank you. -Chad
What tool/equipment/vendor could you not imagine doing business without? Mckay auto parts, which supplies our paint. Abbey glass which takes care of all the paint work. All of the dealerships and the parts departments. -Chad
What challenges do you face as an entrepreneur? Hands down, the biggest challenge we face is finding employees to fill the jobs.  Unfortunately we are in a time when skilled labor jobs are high and the people willing to fill the positions are few. A young person looking for a guaranteed job after training should look to the automotive field. -Chad
Running a family business is tough. It's hard to find a time to vacation together as someone always needs to be present. There are rewards. You get to meet and know many people you might never have had the chance to meet. You find opportunities to help others in need. -Ginger


What's the most valuable lesson you've learned in starting and running your own business? Trust in God and the rest will fall into place. Also take care of your employees, without each and every person that works here we could not be where we are at. – Chad
Hmmm! Owning your own business is much like teaching was to me. You can never turn it off. It's always on your mind. We also feel like we should treat our customers like we want to be treated. Some customers are very demanding but we have to step back and realize we don't know what is going on in their lives. Our goal is to be Christian witnesses in the way we act and react. Some customers come in the door after a very painful experience and we have to show empathy with each one.  -Ginger
What advice would you give to high school seniors who might want to go into this business after high school? If you like to work with your hands, and you want to be guaranteed a job. This is a good field. -Chad
Fortunately the job market for collision repair specialists is wide open. Repair facilities across the country have a difficult time filling positions. This is the number one complaint in the industry. High schools no longer have technical programs so students are not prepared to jump into the job market. I would suggest a high school graduate find a good technical school like Ranken Technical College where he can learn the trade. These are high paying jobs which are plentiful. Plus we are always going to have vehicles which are always going to need repairing. After some experience, venturing out to start your own business could be a possibility. – Ginger


What other local business do you love? Maeva's coffee! -Chad
We work closely with McKay Auto Parts on Tolle Lane. They are based out of Litchfield. Earl Flack is President and is a good Christian man. -Ginger
Tell me about you. What are you passionate about outside of your business? I have grown up in this area, and love this community. I am passionate about my family, and I love to do woodworking. -Chad
Describe your perfect day. Waking up on a nice sunny 70 degree day, grabbing a cup of Ethiopian bean coffee on the back patio with my wife. Playing with the kids throughout the day, and relaxing. -Chad


Thank you, Chad and Ginger, for the interview! It is a pleasure knowing you both personally and I'm proud to feature you here on my blog.
Small Business Owners: If you're interested in having your business featured on the Emily Dobson Photography blog, please email me at info(at)emilydobsonphotography(dot)com. I'm currently booking for 2018 features and will showcase one business per month. Your feature is completely free and you're welcome to use the images on your websites or social media sites. I look forward to meeting you!
Alton, IL Senior & Wedding Photographer
Godfrey, IL Senior & Wedding Photographer
Edwardsville, IL Senior & Wedding Photographer
St. Louis, MO Senior & Wedding Photographer